About Our After School Program
Welcome back to school! We understand that COVID has thrown us all for a roller coaster – especially our students. We, at Move Through Yoga, want your children to have as much of a normal school experience as possible. The Move Through Yoga 35 minute class is the perfect way to start/end the school day. In the morning virtual session, students will be preparing their minds and bodies for the long day ahead, and the afternoon session will guide students to settle down and unwind. Regardless of which session, students will be moving their bodies, opening their hearts, and settling their minds in stillness. Our program ensures students are getting their social-emotional education while building physical strength and balance. Our classes are FUN interactive lessons taught by certified Move Through Yoga instructors.
Directions for Registration:
Step one:
Be sure to DISABLE your pop up blocker before filling out the form! If you still run into any problems, try using another browser.
Step two: 
Scroll down and select which school program you want to register for. 
Step three: 
Fill out the appropriate initial information below press submit. Then when the pop up window pops up, fill out and press submit. Once payment has been confirmed, YOU WILL RECEIVE AN EMAIL CONFIRMATION. Your registration is not complete until you fill out the pop up window with your credit card information.
Step four: 
Be sure to fill out the (digital) Google Release/Waiver form before the start of the program. Students will not be able to participate if form is not completed.   https://forms.gle/wtzu8bL2sw6PGbfr9 
If problems persist while processing, please email registration@movethroughyoga.org. 
Please note: Refunds not granted after first class. On the other hand, should your school's program not meet the minimum requirement, you will receive a refund. Thank you!!
Current Session Details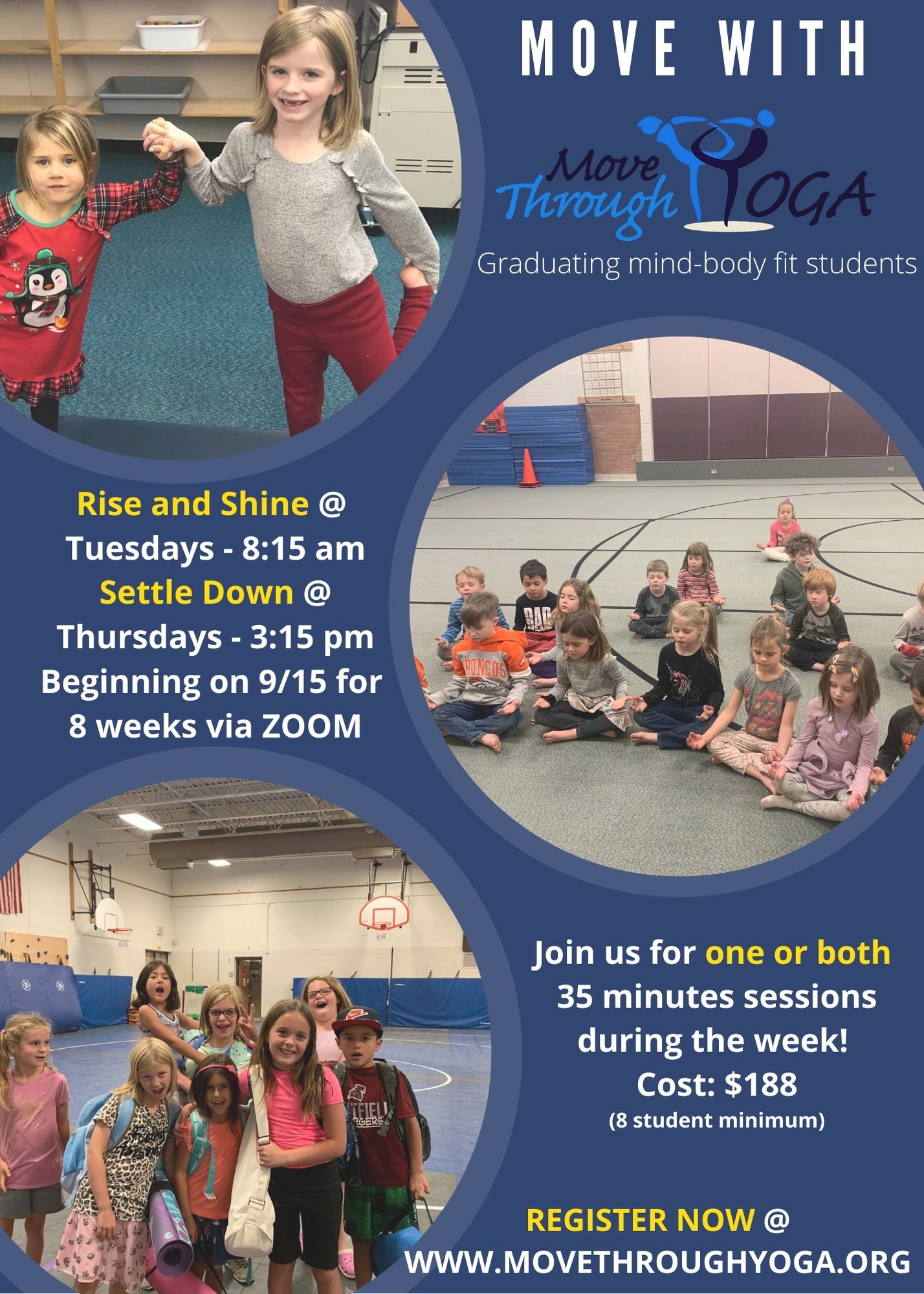 (Click picture for more details)
BEGINNING SEPTEMBER 15TH, 2020, JOIN US FOR OUR 35 MINUTE GROUNDING YOUTH CLASSES TUESDAY (8:15AM) AND THURSDAYS (3:15PM)- RIGHT IN THE COMFORT OF YOUR OWN HOME!
OUR FUN AND ACTIVE IN-SCHOOL ELEMENTARY PROGRAM WILL LEAVE YOUR STUDENT FEELING CONFIDENT, AND STRONG (EMOTIONALLY AND PHYSICALLY) TO NAVIGATE THESE "UNUSUAL CIRCUMSTANCES" WE ARE ALL FACING.
LET'S CONTINUE TO GROW TOGETHER THIS SCHOOL YEAR!

Friendly Reminder: Be sure to fill out your liability and media waiver forms (https://forms.gle/wtzu8bL2sw6PGbfr9) after you've registered.



CLICK HERE TO REGISTER!!